M&M Boat Services
Attention Overseas Buyers - We Ship Worldwide
We will deliver your boat to the port of Baltimore at no charge! This saves a huge amount of $$$$$$$ for overseas buyers. Because we are located just eight miles from the Port, this allows us to pass the shipping transport savings on to you our valued customers. We will assist you with the shipping process out of the Port of Baltimore - We have over 15 years of experience in this area. Your boat will be in good hands from the beginning to the very end of your boat buying and shipping experience.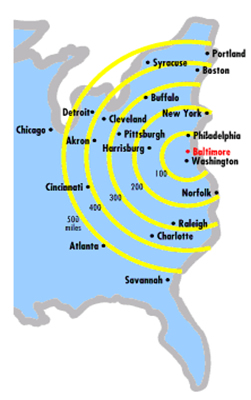 Closest Port to the Midwest
Strategically located in the Mid-Atlantic region of the U.S. east coast, Baltimore sits in the center of the enormous Washington/Baltimore Common Market. This inland location makes it the closest Atlantic port to major Midwestern population and manufacturing centers and a day's reach to 1/3 of U.S. households.

The port provides immediate access to the 6.8 million people in the thriving Washington/Baltimore region, the nation's fourth-largest and one of the wealthiest consumer markets in the U.S. The region is also among the country's wealthiest. Maryland has the third highest household income in the nation ($68,080).
Got Questions?
Read our Frequently Asked Questions
Hours of operation:
Tue/Wed/Thu - 9:00am - 4:30pm
All other days - By Appointment



Wanted:
16-30' Power Boats
We pay CA$H for used power boats!
Email